SKU:iKON2004
Regular price
$256.00 USD
Regular price
Sale price
$256.00 USD
Unit price
per
0% OFF
Sold out
Share
View full details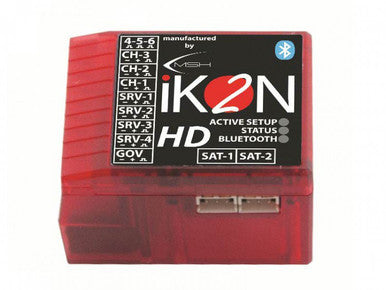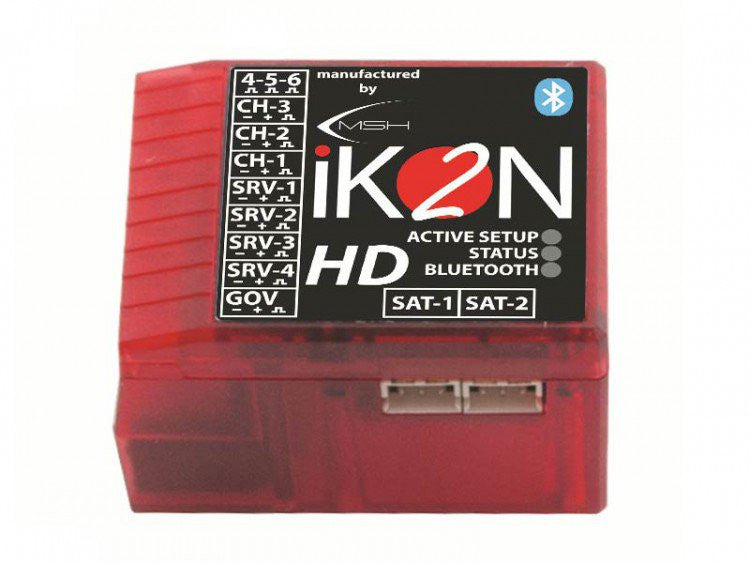 iKON2 - The Legend Continues
The flybarless unit is the heart and soul of the beast at play - a singular device that will effect and influence every nuance of flight. When it comes to choosing the flybarless controller for your needs, nothing is more critical when it comes to the way your aircraft will fly.

Tried, true and ultimately proven like no other flybarless unit on the market today, iKON takes the ultimate next step with the all new iKON2. From here, everything changes.

Mature and all grown up, the iKON2 features an all new Rescue Mode feature, providing the safety net we all need when pushing the boundaries of flight. Just as before, the Rescue Mode will rapidly auto level the aircraft from any orientation the moment you flip the switch, but for an added flair, an increase in collective pitch will automatically be applied to arrest the descent rate that is no doubt taking place.

Representing a new leap in flybarless control, MSH has tirelessly toiled to fine tune the iKON2 to the ultimate perfection. Every aspect of the hardware and firmware has been fine-tuned and optimized, and in the end, we can honestly state this system has no other equal on the market today.

Incorporating a faster CPU with built in hardware acceleration features, the iKON line has grown into multiple units that are ready and waiting to perfectly match your aircraft of choice. From integrated Bluetooth options, Micro and Mini versions, and a Heavy Duty unit, iKON has brought forth an entire lineup of amazing flybarless systems that are ready to alter your flybarless experience.

Flown like no other, and pushed harder, faster and lower, the iKON has made its mark as one of the most flexible, functional and easy to use systems available today. But don't take our word for it - step into the all new iKON2, and change the way you fly.

Heavy Duty Version - Power to Spare.
The HD versions can be powered directly via LiPo or a BEC through the dedicated connector with a FET switch able to turn on or off all your electronics. In case the switch has any failure, the default setting is to the ON position, keeping your aircraft flight worthy and free from a crash.



Vibration Resistant - Bad Vibes Goodbye.


Flybarless systems hate vibrations - they really do. These vibrations can cause flight control issues, unpredictability, and in extreme cases, cause a crash. With the iKON2, we have you covered. The iKON2 uses state of the art vibration dampening systems that keep vibrations in check, equating to one epic flight after another.



Simplified Setup - The Wizard Has Arrived.


Nothing is more irritating, frustrating and time consuming than fumbling with manuals, setup videos and tech help when it comes to proper flybarless setup. No more - the wizard takes control.

Utilizing an easy to follow, fuss free setup, the iKON2 takes a simplified approach to flybarless setup, allowing you to spend less time tuning and more time flying - just the way it should be.



All New Rescue Mode - Ready and Waiting To Save the Day.

Pushed it just a "bit" too hard with that last maneuver? Still learning 3D flight? Looking for just a touch more security while flying? With the iKON2, Rescue Mode technology is a flip of a switch away - saving you (in style, we might add) from a sickening and costly crash that none of us ever wants to see.

When Rescue Mode is engaged, the iKON2 instantly auto levels the aircraft from any orientation, and for added flair, increases collective pitch to arrest the decent rate that is no doubt taking place. This aggressive rescue feature adds an entire new layer to helicopter flight - keeping your aircraft safe, and your bank account a much happier place.



Satellite, XBus & S-Bus Ready - It's All Up To You.
Offering the convenience of satellite technology, the iKON2 supports Spektrum DSM2 & DSMX satellite receivers, JR XBus, along with S-Bus technology via Futaba. On the Spektrum side, (2) satellite ports are offered for maximum redundancy & path diversity.



Built in Governor - Ready to Manage.



Utilizing a transmitter selectable governor, the iKON2 brings compact flybarless technology to every level of the helicopter, allowing you to dial in that perfect rotor speed that suits your style - all at the flip of a switch.

Incorporating a selectable (3) switch flight mode program, the iKON2 allows you to dial in your helicopter with fully adjustable flight mode parameters to obtain the very best from every flight. No more ancillary devices needed on your machine - the iKON2 handles it all.



Polarity Protection - Keeping Things Safe.



N
o fear awaits you when it comes to powering up the iKON2. With the iKON2, polarity protection is built in with all pins polarity protected. Simple and effective, without any nasty surprises.



Event Logging - Stay In the Know.



Incorporating full high resolution logging capability using on board non-volatile memory, the iKON2 takes logging to the next level via an incredibly useful and meaningful way.

With event logging, the iKON2 allows high level review of every flight, making it easy to diagnose issues at play. Further this with full vibration logging via (3) discreet axis', the iKON2 offers complete playback of all vibrations and logging support in real time. It's just that easy.
| | |
| --- | --- |
| Dimensions: | 37.7mm x 29.6mm x 22.3mm (LxWxH) / 20.2g Weight |
| Application: | Nitro and Electric Compatible |
| Receiver Support: | JR XBus / PPM / Futaba S-Bus / Dual Spektrum DSM2 & DSMX Ports / Hitec |
| Cyclic Servo Support: | Up to 560Hz |
| Tail Servo Support: | 760uS / 1520uS - Up To 560Hz Frequency |
New 4X faster CPU

Latest Gyro Technology for Superb Performance

Jeti Transmitter Integration (Coming In Mid 2016)

Powered Directly via LiPo or a BEC Through the Dedicated Connector

Vibration Cancellation Technolog

Integrated Bluetooth Module

Easy Setup via Built In Wizard

Separate Receiver Support, Futaba S-Bus & Spektrum DSMX & DSM2

Dual Spektrum Satellite Ports for Maximum Path Diversity

Built In Governor

Multiple Flight Modes Available - Transmitter Adjustable via Multi-Position Switch

All New Rescue Mode Technology

Firmware Updates Available via PC

Full Event and Vibration Logs

Flight Mode Status LED Light

Onboard Mini USB Connector
Included:
(1) iKON2 Flybarless Flight Controller

(1) Adhesive Vibration Isolation Mounting Pad

(1) Cable Set