SKU:OXY2-S
Regular price
$194.00 USD
Regular price
Sale price
$194.00 USD
Unit price
per
0% OFF
Sold out
Share
View full details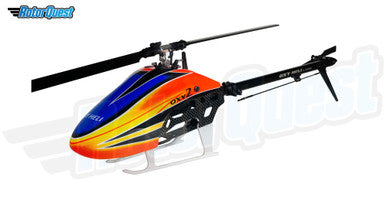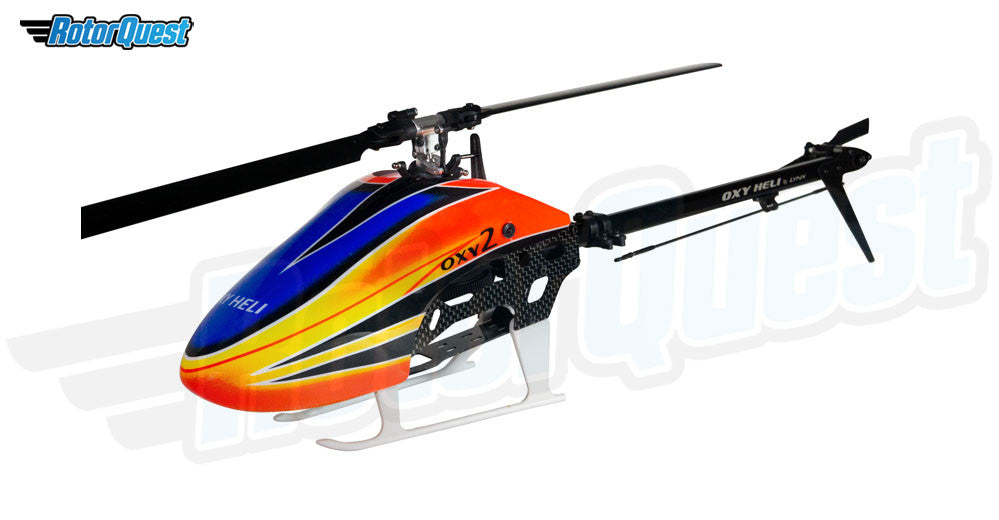 Oxy Heli by Lynx
The Oxy Helicopter project is a natural evolution for Lynx Helicopters. Experience gained over many years of producing high quality upgrades has placed us in a unique position to enter the helicopter market. Our upgrades have been passionately developed by a core team of engineers and designers, delivering several breakthrough products which improved performance, reliability and maintenance costs of many helicopters. We see the market for small helicopters growing. Flybarless systems have allowed flight characteristics to mimic much larger models, and small brushless motors really pump out the power! It is relatively easy to produce a new helicopter. But much more challenging to design one which can be easily repaired and fly well again after a crash. Here at Oxy, were not only engineers and designers – we are pilots, and have a clear vision what both 3D pilots and sport pilots require in a helicopter!
The Oxy Helicopter – the Lynx Division
Using the feedback gained from the upgrade market, our unique consolidated design and manufacturing practices, access to the best materials, a huge team of enthusiast supporters and test pilots from all over the world, as well as a powerful distributor network, Lynx Heli has decided to meet market demand for high performance helicopters by forming Oxy Helicopters. We will foster open collaboration with dealers and customers in the community to have the best designs possible.
Our Philosophy: Top Performance and Quality First!
There is a market emerging for high performance helicopters in the 180 to 350mm blade size. Customers don't want a whole package – they want to pick preferred components like FBL system, blades, motors, servos, ESC, etc. Oxy Helicopters will have top-class, explosive performance, fitting for the best 3D pilots in the world. They will also appeal to sport pilots looking for a high quality, versatile product which is simple to build, maintain and set-up, with clean lines and is crash tolerant. The Oxy Helicopter project is the synthesis of years of ideas. We keep our helicopters simple, robust, light, and of a distinctive style.
The Oxy 2 Sport
Oxy 2 Sport is the Oxy Heli answer for who want an Oxy 2 Kit Lightweight and Economical on Spares management. Comes already with Stretched Boom, that means you can fly from 190mm up to 215mm. Kit include 190 and 210 mm OXY Carbon Plastic Main Blade and 38 and 41mm Tail Blade.
Oxy 2 Sport is NOT a "cheap or crappy" Kit! Oxy 2 Sport is ready for anything you need, from Novice training to Top Pilot request.
We want emphasize that we don't use low cost plastics to produce Oxy 2 Sport, we use the best quality copolymer form one of the best company on the planet, without any compromise, because we are Oxy, and performance for us is everything, because we are Pilot and we know what an Heli have to do in right Pilot hands!
Our first intent was reduced weight, that why we also introduce a new innovative technology for the one-single-part pre-penitent Lexan Canopy, that with only 10 g assure and amazing look and best protection for the Heli in case of crash.
In the end of the process not only the Oxy 2 Sport fly amazing, but also have huge benefits into production cost, this means low kit cost and low spare parts cost.
Oxy 2 Sport is a 190/215 mm blade electric heli, with belt driven tail rotor, suitable for sub micro or glider servos. It is designed to handle high rpms (up to 6000).

Oxy 2 Sport is an amazing Oxy Heli, in small package, to be with you anytime and fly anywhere, exotic Techno Polymer material assure the best performance and made the Oxy 2 Sport an icon on the Mini Heli Sectors.

Oxy 2 Sport like any Oxy Heli is not a toy! We spend over two years testing and designing different options to achieve the goal of a Mini Heli that can be the best partner for Novice but in particular for Top Pilot, that will enjoy the best performance without any compromise and fly as they bigger and pro-machine is a small yard or indoor.

Oxy 2 Sport isn't scared of anything, lightweight with amazing Tail performance will made you thrust that is possible enjoy the 3D fly in just Mini package.
Main features
Heli designed for intense (insane) 3D performance.

Ultra rigid CF frame with low screw count, super easy to assembly and service.

Double main shaft supports with innovative adjustable servo size options.

Quality Injection Molded Techno Polymers Parts.

Lightweight, Big Canopy Volume for high visibility. High-end pre-painted thermoformed Lexan Canopy.

Innovative Lynx-Oxy Cyclic Servo Diagram that keep all three servos always visible and easy serviceable.

Innovative Landing Gear System with Left and Right ultra-fast releasing Skids.
Main rotor
Semi rigid DFC head system for precise performance. Innovative Lynx-Oxy Semi rigid Dampening System.

Double Radial Bearing and Thrust bearings on Main Grip.

Oversize hardened spindle.

Ball raced 120° CCPM – Innovative Lynx-Oxy Serviceable Swash Plate.

Swashplate linkages with optimized geometry.
Tail system
Double Radial Bearing on Tail Grip.

Belt drive tail (low parts count and low crash cost).

Innovative delta box tail boom with no requirement for boom supports.

Tail optimized to minimize vibration and servo load at high tail speed

Rigid carbon fiber 1.5mm diameter tail push rod for the increased tail control.
Electronics & Power system – not included on the Kit
Battery tray fits a variety of battery packs 3s -4s (600 to 1350 mAh) , Max Dimension: Length 72mm - High 25mm - With 35mm – 115gr.

ESC support suitable for 25 to 33A ESC – suggested: CC Talon 25 – HW 30.

Motor Options: EOX Lynx 1611 – 5500 KV or EOX Lynx 1911 – 3600 KV or similar motor with 2 or 2.5mm motor shaft. Suggest KV from 3600 to 5500 in function your battery set up. Max Motor Dimension: Outer Diameter 26mm – Length 24mm (Example: EOX 1911 - 3600Kv or BL250MX – 3600Kv).

Hardened Steel Pinion included in the kit: 11T 2mm Shaft and 13T 2.5mm Shaft (Oxy Lynx also offer aoptional pinions; click here for Pinion Options).

Suitable for Sub Micro or Glider Cyclic and tail servos.
Suggested Cyclic Servos:
Lynx LX9004 - Lynx Servo DS-895-HV

Lynx LX1817 - Lynx Servo DS-895-HV_Aluminum CNC Case - 3PC Set

H2060

KST X08 or 245MG

MSK DS450
Note: Other Servo can fit, for fully compatibility servo check User Manual Servo Size.
Suggested Tail Servos:
LX3005 - 760us Tail Servo Blue Arrow H0988UHS-I

EFLRDS76TJ

Spektrum H3060 or

Blue Arrow D1680UPS-HV

MKS DS480

Note: Other Servo can fit, for fully compatibility servo check User Manual Servo Size

Smart and clean electronic wiring set up.

Smart and protected FBL unit position – suggested FBL MSH U-Brain or MINI Brain – U-Ikon or MINI Ikon – Mikado Neo - Spartan Pico or Nano – Micro Beast.
Specifications :
Length: 415mm Height: 138mm Width: 70mm

Main rotor blade length: 190mm to 215mm

Tail blade length: 38mm to 41mm

Main gear: 113T 0.4 Mod – Straight Tooth

Wide head speed range: 3500 for sport flying up to 6000 for insane 3D

Tail gear ratio 3.437 (16T pulley) , optional Tail Shaft Pulley 15T for low Head Speed set up

Approximate RTF weight: 320g with 3s 800mAh battery– suitable for 3 minutes of intense 3D at 5500rpm
OXY2 – SPORT EDITION KIT CONTENTS:
1 x Oxy 2 Sport Kit with DFC Head System.

1 x Oxy 2 Sport Lexan Pre-Painted Canopy – Multi Color Schema.

1 x set Oxy Carbon Plastic Main Blade 190 mm – Black Color.

1 x set Oxy Carbon Plastic Main Blade 210 mm – Black Color.

1 x set Oxy Plastic Tail Blade 38mm, Back Color.

1 x set Oxy Plastic Tail Blade 41mm, Back Color.

1 x set Colored Tail Fin Sticker (Yellow – White – Orange - Green)

1 x Swash Plate / Tail Pitch Slider Lever Tools with Zero Pitch function

1 x Serial Number Card – Registration Serial Number in www.oxyheli.com, every 3 months a serial number will be extracted from the registered d

atabase to win a $200 USD coupon to spend in Lynx Heli Innovations (www.lynxheli.com)