SKU:OXY5HF
Regular price
$1,027.00 USD
Regular price
Sale price
$1,027.00 USD
Unit price
per
0% OFF
Sold out
Share
View full details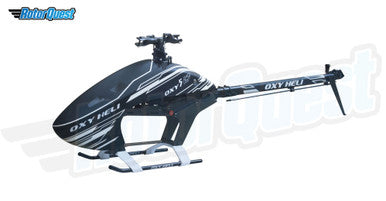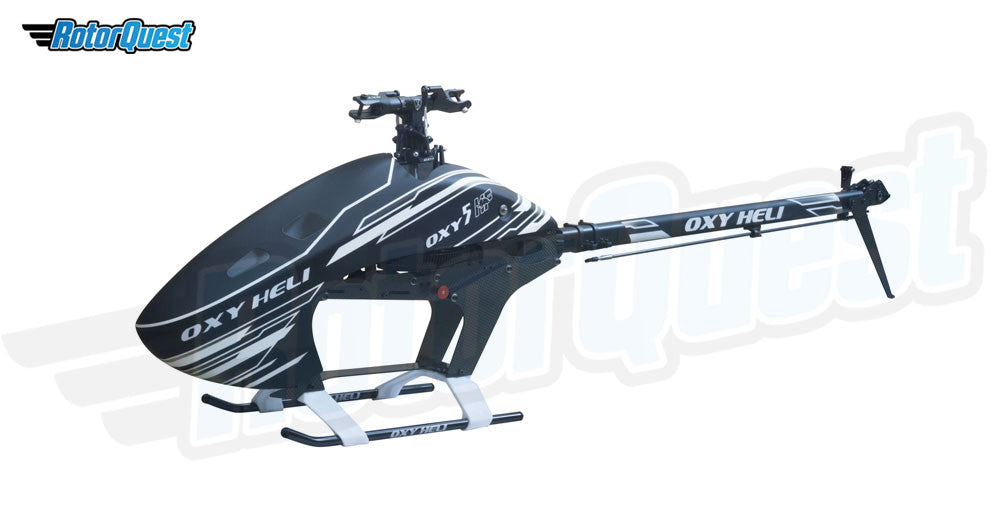 OXY 5 HF – High Fidelity - The evolution of a legend!
The OXY 5 hit the market in 2019 as a game changer for the 500 to 625 mm blade classes.

With it's amazing flight performance and set-up options, it become so popular and loved by worldwide pilots.

Because at Lynx Heli and Oxy Heli we are always looking for ways to improve and try meet Tareq Alsaadi and all our Team Pilots requests of extreme performance beyond the limits, we worked hard as usual to "upgrade" the OXY 5 by adding extra features.
Because the limits are known only when we place a target, the Oxy 5 itself became our target for more performance.

The OXY 5 HF is a Racing Edition… a Competition Machine to push your limit and introduce new sick locking machine.
Basically the 5 HF is a Limited-Edition kit based on the standard OXY 5, then all new parts designed for the HF are compatible as tuning upgrades for your standard OXY 5 that will give you an extra option of upgrading only what you want or need.
Because every pilot has a different build preference, the OXY 5 HF comes with all options included in the box, giving all set-up options that you deserve.
See below what included in the PACKING LIST.

The OXY 5 High Fidelity was concept for many reasons, mostly because Tareq Alsaadi and his "no limits" way to fly.

Things started without any intention of releasing a new Kit or upgrade offering, but just to understand Tareq desires, machine limits and the response of different parts.

Many new parts were designed and tested with great success. After a few months and upgrades improvement Tareq convinced Luca with excitement, to make a new OXY 5 and fulfill our desires to Offer Special Products For WHO Really Want Or Need.

OXY 5 HF Special Edition Vs Standard OXY 5 Kits.

The OXY 5 HF not only look sexy because of the new paint canopy and boom colors, no way!

Under the hood and around the machine many new parts deliver significant performance upgrades.

First of all, lets list the OXY 5 HF Upgraded Parts or Components
Using less colors layers and Matte Finish Paint (without Clear-Coating Layer) was possible to reduce overall 20% the Canopy and Tail Boom weight. Less weight is always better and every detail can help on that goal done correctly. Tareq Alsaadi knows that very well and push us to find solution that in the end delivered not only a weight saving but the "black and white" color schema is just sexy keeping a great flight visibility with contrast.
Heavy Duty "Sprag" One Way System.
Thanks to a different Clutch Bearing, the new One-Way Hub with the new Sprag bearing can withstand approximately 100% more torque than that of the standard "Needle" clutch bearing. The design required a new Aluminum Hub and Hardened Carbon Steel parts. This Upgrade help Tareq and all our Team Pilot to push big motor power and long main blade without any power disengagements and superior autorotation performance.
Front and Rear CNC Aluminum Frame Spacers.
Standard OXY 5 use 10 cylindrical Aluminum spacers to connect upper and lower Main Frame, in the HF we replaced those spacers with 4 CNC Aluminum Bracket Spacers (2 in the front and 2 in the rear) that once installed create an Ultra Rigid assembly between the two frames. This Upgrade helped Tareq and all our Team Pilots by reducing longitudinal frame torsion giving an extra crispy precise tail.
Anti-Slip Belt Tensioner Tail Case.
Standard OXY 5 Tail Case System works flowless, but Tareq and other Team Pilots found the Tail limit when performing crazy Overspeed and when flying over 3000 RPM!!! Like you all can know, everything has limits, the point is to find it and try to go beyond. The new OXY 5 HF Tail Anti-Slip Belt Tensioner System gives Tareq the "no-limit" needed thrust. Beyond that, the Tail Ratio was modified to fly Lower to Higher (but very High) RPM using 105mm tail Blade in place the 95 mm normally used on the standard kit. This Upgrade helped Tareq and our Team Pilots to perform supersonic overspeed and reduce failure and fatigue when flying at a very high RPM (over 3000).

PACKING LIST:

1 x OXY 5 HF Kit with all new Upgraded Parts.

550 Complete Tail System Set.

625 Complete Tail System Set.

Standard Servo Support Bracket Set.

Mini Servo Support Bracket Set.

Extra Motor Shaft Support Set.

Complete 6 mm Motor Pinions Set: 11-12-13-14 Tooth

Complete HF Tail System Pulley: 21-22 Tooth (95 to 105mm Tail Blade Suggested).

Complete Dampeners System Set (O-Ring and Rigid System).

White and Black Landing Gear Strut Set.

550 mm Lynx Main Blade Set.

600 mm Lynx Main Blade Set.

95 mm Lynx Tail Blade Set.

105 mm Lynx Tail Blade Set.

Limited Edition OXY HELI – OXY 5 HF Cap