SKU:FUS-4012SF
Regular price
$4.00 USD
Sale price
$3.00 USD
Unit price
per
25% OFF
Sold out
Share
View full details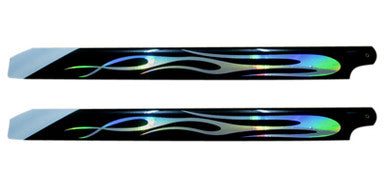 The Holographic blade decals produce very nice and cool compact disks look when you are flying under sunshine and when you hit the right angle you can also see the design in 4 to 6 places when the blades are spinning. This is an awesome effect.

These are accents that are designed and cut by computer. Very nice graphics and are made of high strength M3 adhesive. Simply wipe your blades with a mixture of alcohol or helicopter clean solution and apply the accents onto the blades.
All holo blade decals kits come ready to install. We provide a transfer tape layer that are already installed onto the accents which will make the installation a breeze. Just peel the transparent transfer tape up and line it along the blade.

Tip: Use sharp razor blade to cut off any excessive tail. Press down the accents a few times. A hair dryer or a lighter will help better adhessiveness.

Designed for 450 size helicopters or T-REX 450, HDX450 or any 400 to 450 size electric helicopters.


Design for 325mm main rotor blades.

Quantity: 2pcs

Holo pattern: Sand Flash