SKU:IC-X8
Regular price
$134.00 USD
Regular price
Sale price
$134.00 USD
Unit price
per
0% OFF
Sold out
Share
View full details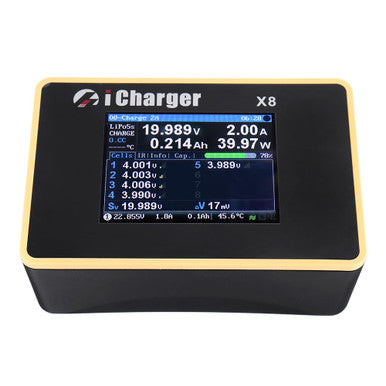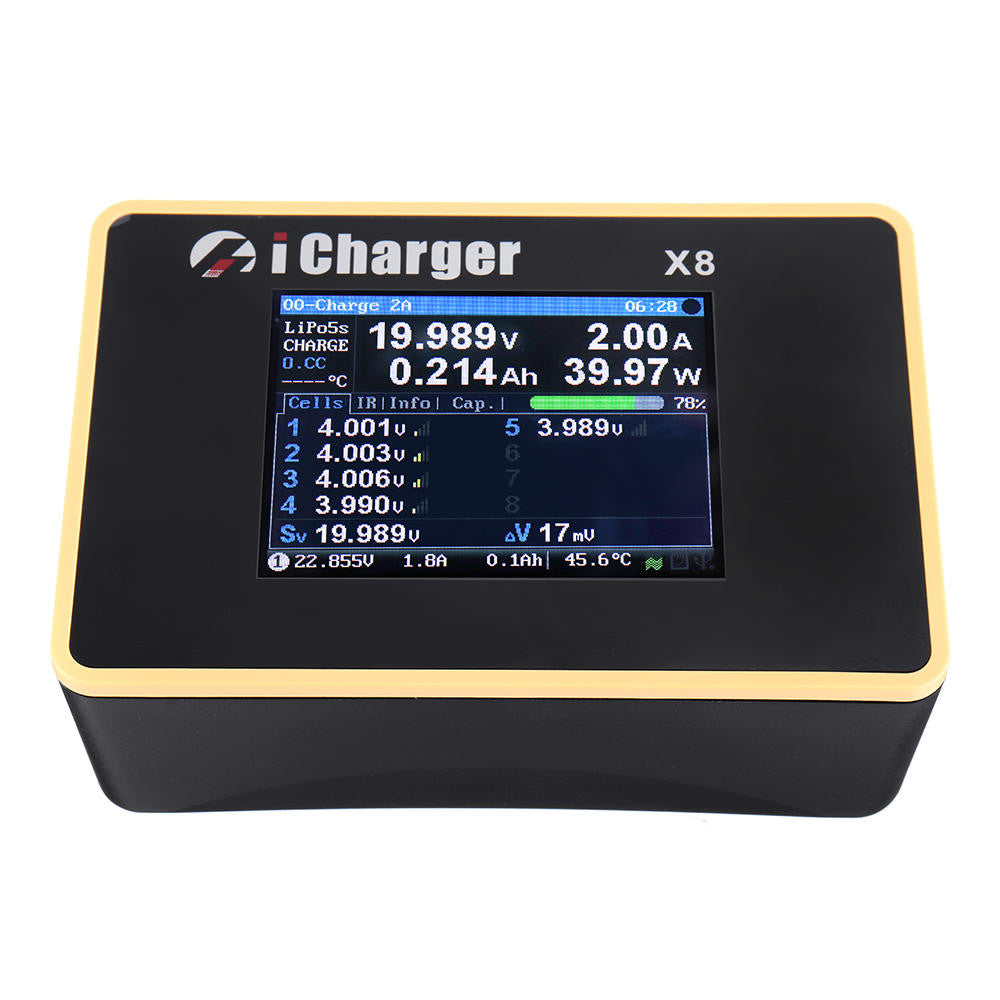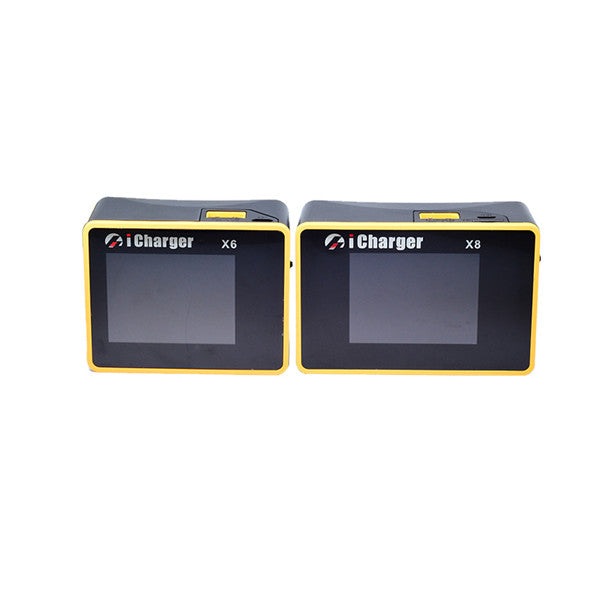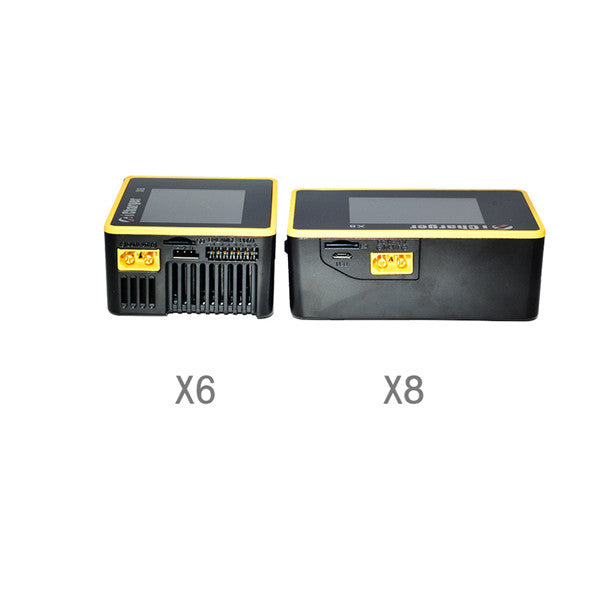 ***Product updates: all X8 Icharger stock from Rotorquest comes updated with the latest v2.10 software. No need to update the charger as we've done it for you!
The X6 has a big brother! Don't worry though, it's not much bigger physically - but it does up the charge stakes significantly, with 1100W of potential output and capability to handle packs up to 8S.
The X8 is capable of a full 30A rate on LiPos up to 8S. With a balanced current of a full 2A, charges will finish faster than ever. The full-color IPS display provides a wealth of information at a glance, using the operating system perfected on the larger DuoiChargers.
The X8 can charge at up to 30A, and it can also discharge at up to 30A! While similar size chargers limit their discharge capabilities, the X8 offers iCharger's trademark support for regenerative discharge, allowing the charger to provide a full 1100W of discharge capability when powered from a suitable battery bank.
Despite its small size and low price, this is still a full-featured iCharger, with multi-chemistry support and all the depth of settings you've come to expect, including an improved software interface for recording battery data and upgrading firmware.
Features:
X8 uses advanced Synchronous buck-boost DC/DC converter technology with high power, high current and high-performance power conversion circuit. The maximum charge power capacity is up to 1100W, the maximum charge/discharge current of a channel is up to 30A.
X8 Supports 8S LiPo, Lilo, LiFe, LiHV, LTO, and NiZn batteries, with maximum 2A balance current, and adopts a unique balance calculation of internal resistance correction. Supports 1-25s NiMH/NiCd batteries and 1-15s Pb batteries.
With digital-power mode for great protection (over-current protection, over-voltage protection, input under-voltage protection, input undercurrent protection, and etc.)
Intelligent fan control. Sensing internal temperature via the internal temperature sensor, thereby control the fan speed.
Internal temperature protection. When the internal temperature exceeds the Power Reduce temperature, the output power is automatically reduced; and the charger will shut down when the temperature exceeds the Shut-down temperature.
This charger can save 32 parameters sets and support the data import/export to SD card.
A 2.4" IPS LCD screen provides rich information including current, voltage, power, capacity, internal resistance, control status, time-consuming and temperature, etc.
Multi-discharge features: self-discharge, regenerative to input discharge, and lithium battery extra expanding discharge.
Supports measurement for internal resistance of battery offline and online. It can measure not only the internal resistance of the entire battery pack but also measure the internal resistance of each cell within the lithium battery.
X8 has protection for reversed polarity (input or output), input voltage/current, battery temperature, charging capacity, overrun time and maximum power, etc.
Supports upgrading the hardware program by USB port or SD card. X8 also supports the"Junsi Console" software and can display, plot and analyze the charge and discharge data by it.
Specifications:
Display: 2.4 " IPS LCD (320×240)
Net weight: 200g
Dimension: 97.5×64.5×37 ±0.5mm
Input voltage range: 9—49VDC
Maximum input current limit: <35A
Maximum charge/discharge current: 30A
Maximum charge power capacity: 1100W
Maximum discharge power capacity: 50W
Maximum regenerative discharge power capacity: 1100W
Maximum extra discharge power capacity: 1000W @33.5V/30A
Maximum current drain for balancing: >2.0A
Great little charger
Small screen takes some getting used to. Accurate.
Dependable. Recommended.