SKU:SWG_PRO
Regular price
Sale price
$67.00 USD
Unit price
per
0% OFF
Sold out
Share
View full details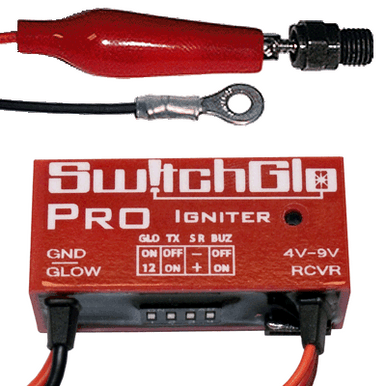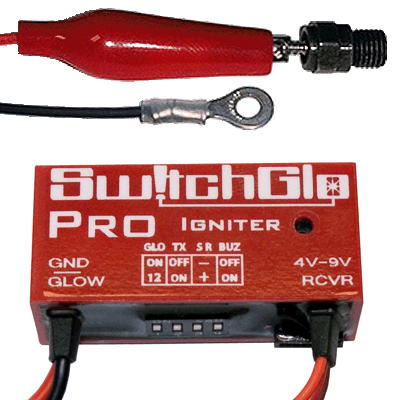 SwitchGlo Pro is a revolutionary onboard glow driver that simply plugs into an RX receiver channel and requires no re-charging or additional batteries. It will accept any voltage input between 4V and 9V. Because of its unique and highly efficient voltage regulation technology, SwitchGlo Pro draws an insignificant 0.4mAh per 1 second of glow time and will not noticeably drain your battery. Total onboard weight is only 25 grams including the pig tail.
"Know when you Glow" with an audible buzzer that can also assist in locating a lost craft. SwitchGlo helps you diagnose starting problems with a single beep when detecting an open
circuit, indicating you that your glow plug is spent, and greatly reducing time wasted troubleshooting.
You can program mix SwitchGlo Pro just like any other servo on your craft. SwitchGlo Pro has a 4 switch SIP with a built in servo reverser for Y harnessing and an adjustable 15 second Auto Shut-Off setting or set to always ON. This allows you to adjust for every possible installation and program mix, from eliminating dangerous Helicopter "Hot Starts", to "Low Throttle Mixes" for preventing stall outs during Airplane taxiing and final approach, SwitchGlo Pro can do it all.
No more struggling with lost or forgotten hand held ni-starters, broken remote cables, or dead batteries. SwitchGlo Pro is ready to work for you every time you power on your craft!
Features:
Remote Activated with

Transmitter

Toggle ON/OFF @ Start-up or in Flight



Program Mixable with Radio for Automatic Low Throttle Activation & Throttle up "Hot-Start" Prevention


Compatible with all 4V to 9V Systems

Optimal "Adaptive" Glow at any voltage

Audible Buzzer & LED Indicator

Spent Glow Plug Detection & Alert

Audible Remote Lost Craft Locator

Servo Reverser for Y Harnessing

Water Proof & Vibration Immune

No Batteries, No recharging, Simple Installation & Maintenance Free